Travel Vacation Specialist!
Hi! My name is Robin Fretwell and I live in North Carolina.  I have enjoyed researching and planning trips to Walt Disney World since 2000. My passion for all things Disney has made me the 'go-to-girl' for Disney trip planning and tips for nearly 20 years. I'm known as "The Dixie Pixie". I love to bring the magic of a Disney vacation alive for others, 'with Southern charm'. As a member of the Mickey Adventures team, I focus on working with families and couples who want to make memories and have fun together, without breaking the bank or spending precious time researching and planning. I work with clients to plan magical, one-of-a-kind vacation experiences. I specializing in planning for travel to the Walt Disney World Resort in Orlando, Florida, but I can help you with any Disney or Orlando area travel destination.
I love to visit Walt Disney World. It truly is the Happiest Place on Earth! My first trip was in 1982 with my dad, mom and sister. I can still remember things we did on that trip. My husband and I took our son for the first time in 1995. It was our young family's first big vacation, and I'm so glad we chose Walt Disney World to spend it at. Our family travels a lot, and we do a lot of fun things together. We are always making memories. But it seems that we talk about and remember our Disney World trips more than anything. The Kids love to pull out their scrapbooks from our past trips and look at them to remember the fun. And often we get out the family video tapes of our trips and watch them and laugh and wish we were back there again. I will never forget the first time my son met Goofy on our first trip or the first time my daughter saw Cinderella's Castle. It was night and the Magic Kingdom was decorated for Christmas. We covered her eyes until we got out on Main Street right in front of the Castle. When we uncovered her eyes she saw the Castle and looked around. When she realized where she was, she spread out her arms and twirled around saying, "It's all so wonderful!" my thoughts exactly.
Over the last 18 years, I have experienced 2 Disney Cruise Line sailings in addition to having visited Walt Disney World in Orlando, Florida over 20 times and Disneyland in California twice. I have trained extensively with Disney, Universal and SeaWorld and experienced most of the rides, recreation, entertainment and dining each has to offer. One of my favorite things about these destinations is that, while much of what they have to offer stays the same, allowing for cherished memories and experiences to be revisited, there are always new and exciting things being added at each.  Your must-do list never gets boring. Some of the special experiences I have enjoyed with my family and been able to help other families share include birthday trips, multi-generational Grand Gatherings, multi-family trips, and couples getaways.
I'll put my wealth of Disney knowledge to work for you even if you have already booked your trip. When you make a quote request I'll ask you to share as much information as possible about your family and travel plans. Knowing your priorities, budget and exactly what you are looking for in a Disney vacation will help me in guiding you through each step of the process. From planning and booking your vacation to making your Advanced Dining Reservations, recreation and entertainment plans. You will have everything right at your fingertips, plus the guidance of someone with years of experience, and a love of planning and organization right down to the smallest detail. To give your vacation an extra-special touch, itinerary planning is also available; making sure each person in your travel party never misses a minute of the top things they have on their must-do list. As a graduate of the College of Disney Knowledge, I've already done the hardest part for you…researching and gathering information. I can help you with booking and planning your family's next vacation, be it a trip to Walt Disney World, Disneyland Resort, Disney Cruise Line, Adventures by Disney, Disney's Aulani Resort in Hawaii, or any host of other destinations!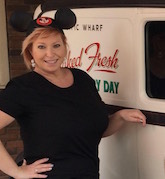 Robin Fretwell lives in Belmont, NC. Robin is a destination expert for Walt Disney World in Florida, Disneyland Resort in California, Disney Cruise Line, SeaWorld and Discovery Cove, and Universal Studios Orlando. She specializes in first time travelers, couples getaways & honeymooners, families traveling with small children and/or teens, and special celebration travel. You can reach Robin at: