Travel Vacation Specialist!
I am so excited to be working with Mickey Adventures. I have been helping friends, family members, and complete strangers (through referrals from family and friends) plan their vacations to the Walt Disney World Resort in Florida for years now. I am the proud mother of 3 beautiful boys and I work full time as a first grade teacher.
I have been going to Disney World in Florida for as long as I can remember. We started going when I was 3 in 1983 and we just keep going back. My family and I travel there at least once or twice a year. I have the belief that when you are in Disney World, you are truly in a magical, real-life fantasyland.
I would love to help you plan your vacation because I have had so many different experiences there. I have been there as a child, a teen, with just girls and on a romantic vacation. I got engaged in front of Cinderella's Castle, had my wedding there and part of my honeymoon. I have been while I was 6-months pregnant, I have brought an infant twice and my 6 year old has already been many times.
There are so many wonderful experiences at Disney, including the many amazing hotels and restaurants. I have stayed at most of the resorts and have dined at many of the restaurants. Giving resort and dining recommendations is my favorite part of the planning process.
I can't wait to help all your dreams come true! Contact me today to get started planning your magical Disney vacation!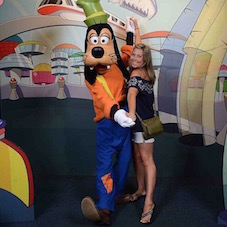 Grace Murphy lives in Haverhill, MA. Grace specializes in trips to Walt Disney World in Florida.  You can reach Grace at: