Travel Vacation Specialist!
Hello, my name is Missy Logan, and I live in Huntsville, Alabama, with my husband and daughter. As an alumna of The University of Alabama, I am an avid Bama fan – Roll Tide! I worked in the areas of communications, human resources, as well as with federal grants before becoming a stay-at-home mom after my daughter was born. In addition to loving the Tide, I also love ALL things Disney!
I visited Disney for the first time when I was six years old and fell in love! I still have my autograph book filled with character signatures from my second trip to Walt Disney World at age eight – this time with my best friend with me to experience the magic! While I haven't visited every year of my life, I totally would have if given the opportunity. From my first trips as a little girl to return visits as a teenager, college student, and adult and a mom, each time I take away something different – I even took a high school group of 50 students to Walt Disney World one summer – now that was something!
I helped plan many Disney trips for friends and family members for years before becoming a Disney Vacation Specialist over nine years ago. So, I became a Vacation Specialist because as simple as it sounds, I love sharing the magic of Disney with other people. The attention to detail that Disney displays in every area of their resorts and theme parks is one of the things I love the most and want to share with clients. I get excited when people start talking about visiting Disney – I want others to love Disney as much as I do. I want others to visit Disney and come away saying WOW – that was amazing!! I particularly enjoy organizing all the trip details so that families can relax and experience Disney through the eyes of their children while being kids again themselves.
So, whether you are interested in theme parks, cruises, all-inclusive resorts, guided family tours, US or European destinations, customized itineraries, and more, I would love to help you find that perfect family vacation, honeymoon destination, Spring Break trip, or a quick weekend getaway! Planning customized, hassle-free vacations on any budget is what I love most.
I am a certified travel agent in numerous destinations in addition to Disney including all-inclusive resorts, US destinations, cruises, Universal theme parks, land tours and more. In my spare time (when I can't travel), I enjoy playing tennis, shopping, and spending time outdoors with my family.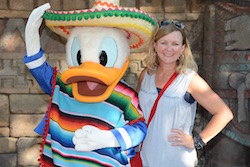 Missy Logan lives in Huntsville, AL. Although her first love is Walt Disney World I Florida, Missy can help plan a stress-free and magical vacation to any Disney destination as well as Universal Studios Orlando, SeaWorld Parks & Entertainment, Sandals resorts and more! Missy loves helping families with young children and first time guests along with those repeat clients, and she specializes in planning budget-friendly vacations. You can reach Missy at: