Travel Vacation Specialist!
My name is Danielle Netta and I live in Monmouth County, N.J. I was 2 years old the first time I went to Walt Disney World Resort back in the seventies with my parents. They said I talked about it for years. Since then I have made numerous trips to Walt Disney World Resort! I am also a Disney Vacation Club member. I am also proud to say I made it to Round 2 of the Disney Parks Moms Panel in 2013!
I have been freelance writing about Disney since 2006 and have been a featured writer for All Ears, as well as a regular columnist for Disney World Trivia's website (now WDW Radio). I currently have been writing for WDW Hints since 2013. My specialty when it comes to Disney is dining. As a former food blogger and PR consultant in the restaurant business, I have an affinity for Disney Dining, and love to write about it, and share my tips with you! I even keep an Excel chart to track how many places I've eaten at in WDW!
I love talking all things Disney and will be excited about planning your magical vacation to any Disney destination as if I was planning my own!  I have been to Walt Disney World during every season and have attended numerous special events at the parks. I also have visited Disney's Vero Beach Resort and am a huge fan of Disney Cruise Line . I have trained and graduated from the College of Disney Knowledge and am ready to plan your magical vacation to Walt Disney World, Disneyland, Disney's Cruise Line, Adventures by Disney and Disney's Aulani in Hawaii.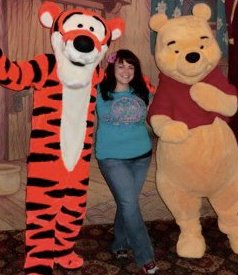 Danielle Netta lives in Matawan, N.J. Danielle is a destination expert in Walt Disney Resort in Florida but can plan your magical vacation to any Disney destination. She loves planning for newbies, families, adults traveling without kids, honeymooners, and anyone else who loves Disney! You can reach Danielle at: